ATTENTION VIRGINIA SENIORS AND VIRGINIA GENERAL ASSEMBLY
SAY NO TO THE AARP-BACKED PRESCRIPTION DRUG AFFORDABILITY BOARD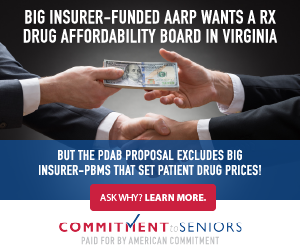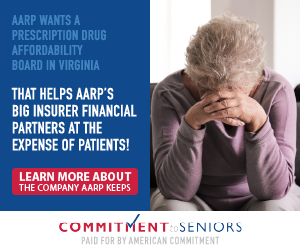 NEW POLL: Comprehensive Survey of Voters 55 Plus on Key Healthcare Concerns, Inflation Reduction Act & AARP's Advocacy Activities Released by American Commitment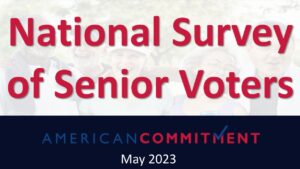 As part of its Commitment to Seniors initiative, American Commitment released a new national survey conducted among 1,600 likely voters who are 55 and older, including nearly 700 identifying AARP members. The poll was conducted by McLaughlin & Associates from April 23-30, 2023. The survey indicated various concerns voters 55 and older had on healthcare affordability issues, the impacts of the Inflation Reduction Act (IRA), and AARP's advocacy initiatives surrounding it in view of its corporate financial relationships.
C2S Video Advertisement "Celebrating" AARP's Billion Dollar Bond with Big Insurance
HAS AARP LOST ITS WAY?
While claiming to serve the interests of American retirees, AARP's true agenda has become increasingly aligned with the financial interests of its corporate partners and well-paid workforce.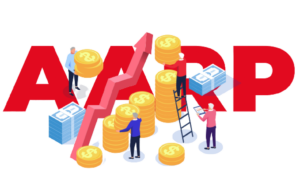 If seniors pay $16 per year to belong to AARP, but AARP's corporate partners pay them over a billion dollars a year, whose interests do you believe they're prioritizing?
Many argue the tax-exempt AARP has lost its way, becoming more of a marketing and sales platform for large corporations seeking to sell goods and services under AARP's brand to its captive member audience of millions.
As a result, AARP has been accused of advocating for policies that financially benefit AARP's corporate partners at the expense of seniors, including price controls that will devastate investments and research into life-saving medicines.
Are you an AARP member?
ABOUT COMMITMENT TO SENIORS
Commitment to Seniors is a project of American Commitment.  The mission of the program is to shed light on AARP's public policy positions, actions and inactions, and AARP's advocacy and political engagements, and how they impact both their members and their financial partners.